Over a century ago, father and son glassblowers Leopold and Rudolf Blaschka from Dresden, Germany, became world-famous for their meticulous and highly realistic recreations of plant and marine life. While each piece was made entirely of painted or colored glass, their sculptures didn't appear to be glass at all, but identical to the living creatures they copied, only frozen in time. Preservation through taxidermy or other approaches was either impossible or yielded poor results for study by researchers and the public - only the Blaschkas successfully mimicked nature's beauty.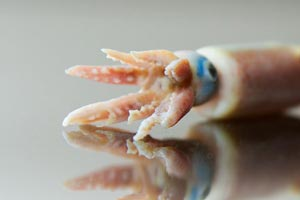 Detail on 3D printed version
Fast-forwarding to today, no one has ever been able to match the Blaschka's uncanny ability to capture delicate life in glass. What we do have are thousands of original Blaschkas in a few museum collections, mainly in the northeastern United States. As you can imagine, they are painstakingly preserved and rarely transported even among display cases, as each movement risks permanent damage. But one curator, marine biologist and Cornell professor Drew Harvell, has a vision to share these beautiful (and scientifically significant) pieces with the vast portion of the world that can't see them in person. She tells this story in the award-winning movie by David Brown, "Fragile Legacy." Here's where 3D printing comes in: Stratasys reseller CADD Edge learned of the Blaschkas through Peter Fried, who is working with Professor Harvell on perfecting the 3D scanning of the collection, and suggested the new Stratasys J750 full color, multi-material 3D printer might be a perfect fit to easily re-create the stunning beauty of the original artifacts.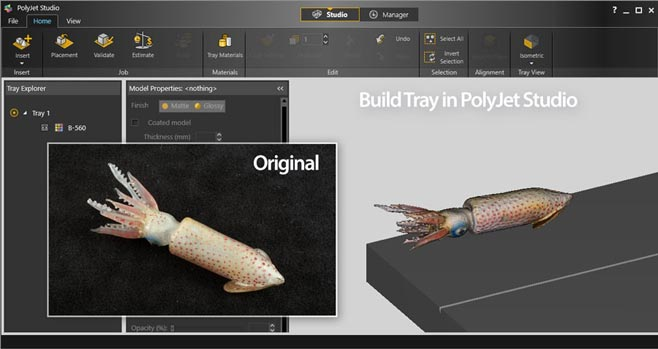 View in the Stratasys J750 software, PolyJet Studio, with photo overlay of the original Blaschka
Fried essentially asked CADD Edge, "Is 3D printing at a stage to re-create these glass sculptures?" You're seeing the remarkable progress toward that objective, thanks to the stunning resolution and full-color capability of the new Stratasys J750. This first test print is of Blaschka model B-560, a 2-inch squid sculpture that's over 130 years old, but now beautifully mimicked in a durable 3D print that can be easily transported and handled safely.
Successful Squid Straight Off the Printer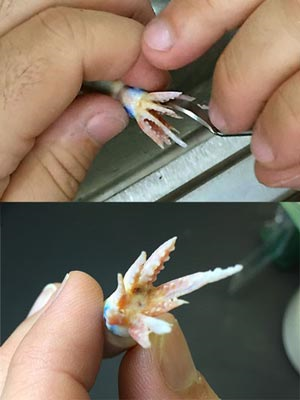 Removing support material at the CADD Edge 3D printing facility in Connecticut
What's most impressive about this initial print (which did not yet attempt to simulate transparent/translucent effects) is how little adjustment was needed in the workflow from 3D scanning to 3D printing. Essentially, the scan was made using photogrammetry techniques and Agisoft Photoscan software to get a VRML file of the geometry and color texture map. This file was directly imported into the new PolyJet studio on the Stratasys J750 and 3D printed as-is. What you're seeing is straight from the J750 3D printer—no post-processing beyond support material removal. It's a stunning example of how well this new 3D printer is able to handle detail with 14-micron layer resolution and of its superior color rendition without resorting to post-processing techniques like sanding and painting.
The Future is Clear
Professor Harvell had this to say upon seeing this first test print, "We knew the 3D-imaging and printing of the Blaschka glass figures would be challenging. However, we have been very impressed with the vividness and quality of our first-cut prints from the Stratasys J750. We look forward to more 3D printing activity and hope these prints will help us grow awareness for these beautiful figures."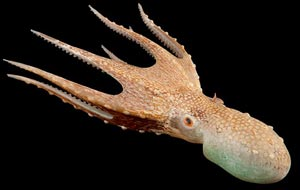 Another original Blaschka from the same collection (courtesy photo Cornell University)
The early success in printing Blaschka B-560 is an excellent example of how the Stratasys J750 is a game-changer for industries beyond prototyping, such as historic preservation. There's growing interest in 3D scanning the world's most precious artifacts, but it's the ability to also 3D print in full color with stunning detail that truly completes the cycle of sharing these pieces without constraints. Next steps for the Blaschka B-560? 3D scanning with transparent and translucent effects, says Fried, and moving on to more of the collection, which includes larger pieces like jellyfish. The J750 will be ready as it can print with variable transparency as effortlessly as color, so stay tuned as more progress is made on this project!