United Launch Alliance (ULA) is taking Stratasys 3D printing technology to new heights, using it to develop enhanced, low-cost production tooling and to reduce production costs for the Atlas V and Delta IV rockets' flight hardware. ULA's new initiative introduces the robust FDM thermoplastic, ULTEM™ 9085 resin, 3D printing material into its existing rocket design for the Environmental Control System (ECS) duct system - slashing the system's production cost by 57% and reducing the ECS assembly from over 140 to just 16 production parts.
ULA's shift from traditional metallic applications to 3D printed tools has changed the way it has operated over the last 30 years. For example, Kyle Whitlow, ULA Structural Engineer, reported significantly easier installation and assembly procedures for the ECS ducts, in addition to lower part costs. Additive manufacturing's ability to produce these complex geometrical parts with little to no assembly will reduce production costs.
Stratasys worked with ULA to develop processes to ensure materials and applications are certified to ULA's exacting standards.. By tracing it back to its raw material state, ULA monitored the quality standards of the thermoplastic material to ensure the material contained the appropriate properties for the application.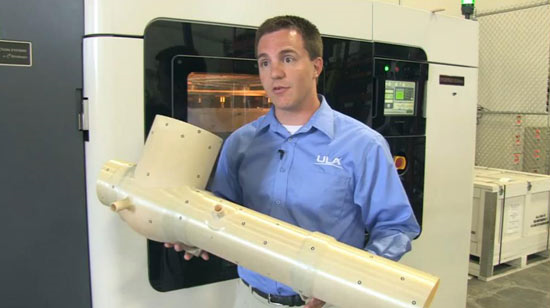 Kyle Whitlow, ULA Structural Engineer, holding the ECS duct produced on the Fortus 900mc 3D Production System (in background)
ULA's biggest concern for this particular application was the severe environment the ECS ducts are subjected to during the rocket's launch. The ECS ducts are responsible for distributing temperature and humidity-controlled air onto sensitive avionic components during the countdown sequence to launch. Although these parts would be used solely for ground operations prior to liftoff, the material used would need to withstand vigorous vibrations during launch.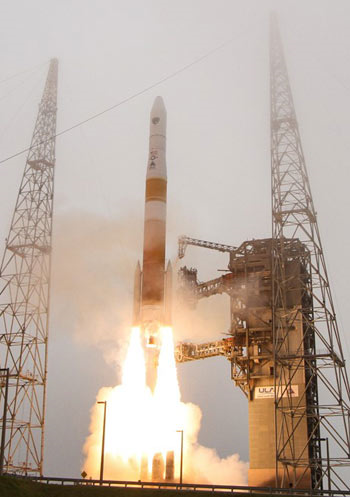 ULA used Stratasys FDM-based additive manufacturing technology to reduce the number of assembled parts on the Atlas V's ECS ducts from over 140 to 16
The ECS ducts are printed on the company's two Fortus 900mc 3D Production Systems from Stratasys in ULTEM 9085 material. ULA chose the FDM-based thermoplastic 3D printing material for its durable, yet lightweight mechanical properties.
As the demand for faster innovation continues to expand, weight-sensitive industries like aerospace are turning to additive manufacturing for a cost-effective way to rapidly produce reliable parts.
Whitlow adds, "Innovations through additive manufacturing are really pushing ULA to be leaner, more cost-effective, more efficient, and enabling us to implement new, innovative technologies into our design process and flight structures in a way that hasn't been done in the past. We use FDM primarily right now for tooling, but we are working rapidly to implement it for flight hardware."
ULA expects to see exponential growth in 3D printing and flight applications, which will be heavily infused into their next generation launch systems. The first Atlas V with the 3D-printed ECS ducts is scheduled to launch in 2016.
Watch the exciting video to see how far you can go with Stratasys additive manufacturing.
ULTEM™ is a registered trademark of SABIC or its affiliates.