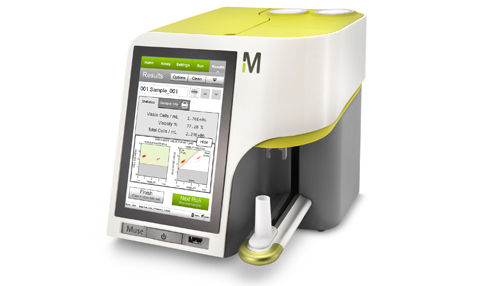 Medical Device Manufacturing: EMD Millipore's Muse Cell Analyzer
Stratasys Direct Manufacturing partnered with EMD Millipore Corporation to manufacture the Millipore Muse™ Cell Analyzer. The Muse assesses cell health parameters and immune status among other abilities in minutes from a single desktop medical device. The size of the Muse is almost unheard of in the realm of cell analyzation; typically, medical devices like the Muse are bulkier. The Muse has the same processing power as older behemoth analyzers and yet it fits on a technician's desk.
Challenge
Millipore's challenge was to manufacture the Muse in time for a pre-production product launch prior to injection molding and tooling. The pre-launch functional Muse products would be used in market research and feedback, as well as for early delivery of the analyzer.
Solution
First, Stratasys Direct Manufacturing 3D printed prototype models of the Muse using Stereolithography (SL). The models were finished, painted and assembled to mimic the look of an injection molded Muse. Once Millipore approved these initial SL models, we moved into cast urethane manufacturing.
Secondary SL parts were built and given textured surfaces for use as master patterns in our urethane casts. SL patterns were used to create a silicone mold, or soft tool, which is cast with advanced formula polymer (AFP) urethanes. The urethane parts were color matched to Millipore's specifications, assembled and delivered to Millipore before initial tooling began.
With these cast urethane products in-hand, Millipore partnered with Stratasys Direct Manufacturing once again to begin tooling and injection molding. The prototype and cast urethane models aided in smoothing out the tooling process; the models gave a clear indication of what the final molded part would feel and look like, and the urethane parts were used in sales and market studies. Stratasys Direct Manufacturing molded and assembled the Muse in-house before sending the casings to Millipore, who then completed proprietary interior electronics and added intuitive touch screens.
Results
For the Muse, the urethane parts were invaluable during initial product launch. The advanced formula polymers accurately simulated injection molded plastics in feel and function. The cast urethanes gave Millipore early market and research information which helped steer final production. The Millipore Muse Cell Analyzer won a Red Dot Design Award for its accessibility to real-time quantitative cell information, innovation, functionality, ergonomics and overall appearance.
Working with the same partner from prototype to full production ensures your manufacturer has all the information on your product, and knows exactly how to make your design happen.